History of Chhangamal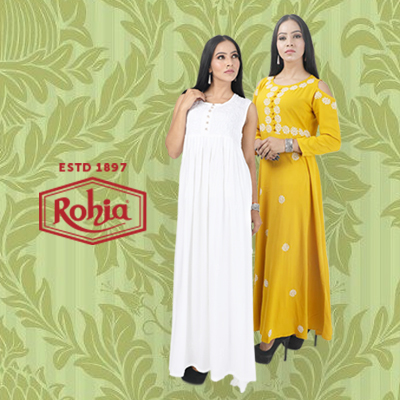 Chhangamal Ramsaran Garg Agencies was established in
"1897",
initially the firm was involved in the production of caps but gradually diversified into fabrication of
'angarkhas'
Kurtas, sarees etc, based on customer preferences. Since then, the brand Chhangamal has become synonymous with premium and handcrafted ethnic wear that showcase the traditional Chikan embroidery in contemporary designs. Presently, chikan designed items include dining table covers, bed sheets, gents shirts, ladies suits, sarees, bottoms, dupattas and more.
Chhangamal has become the prime shopping destination for locals as well as domestic and international tourists. With focus on providing quality material, exceptional embroidery and designs that suit individual preferences, we have been able to build loyalties amongst customers that span generations.
To provide a complete fashion experience, Chhangamal has launched Rohia. Whether you want to redo your wardrobe or just add a little ethnic touch to it; we have something for everybody. The brand, Rohia, houses an elaborate collection of women's and men's clothing. The exhaustive collection for men includes Kurta, Pyjamas, Shirts, T shirts and the huge range of women wear consists of Saree, Suit, Top, Salwar & Dress Material. We also have a Kid's Collection.
To expand out customer reach, Rohia is now all set to go online. Our extensive stock collection means that customers have a lot of options to choose from while our dedicated e-commerce team ensures that the latest products are uploaded and all information is up-to-date.
History of Chikankari
Chikan name is originated from a Persian term called Chikan that means Kashidakari (embroidery).
Nur Jahan wife of Jahangir, a very talented lady started this craft of replicating the beautiful eccentric carvings done on the walls of the empire to the fabric with the help of needle and thread. She taught the art to several villagers. From then, the villagers started making Do-palli topis (caps) and Angarkhas and decorated it with intricate designs using combinations of Chikankari stitches. They followed a trend of gifting these hand-made topis and Angarkhas to Nawab Wajid Ali Shah.
Earlier it was done with white thread on white muslin but the quality and variation evolved over the years keeping up with the fashion needs and demand for variety.
Process of Chikankari
The process of producing Chikan embroidered items is a long and arduous process that involves the hard work of hundreds of labourers. Chhangamal employs traditional weavers who have been doing this work for generations. This allows us to ensure that the cloth you wear is made with the best of skills and all due care has been taken to provide you only with the top quality of materials.
The production process involves the following steps:
Procurement of Raw Material: The raw materials consisting of various types of fabrics such as cotton, tricot, teri rubia, silk and terivoile are purchased in bulk from the manufacturing centers according to the requirements and are stored in the godown.
Cutting of the Material: The material is first cut in bulk, either manually or via machines. The fabrics are then subject to specific cutting, by hand, into desired shapes of different apparels like kurtas, pyjamas, maxies and shirts by experiences and skilled cutters.
Cut Material is Stitched: The fabrics are then stitched via sewing machines as per the different sizes and shapes and are readied for the next stage which is block printing.
Designs are Block Printed: The various designs are then printed on the desired fabric by using wooden blocks, blue coloring agent and 'Gum' so that the designs printed do not fade off easily.
Printed Designs are Embroidered: This is the most intricate, meticulous and time consuming part of the entire process. Using different types of Chikan embroidery, like tepchi, jaali, ulta bakhiya and more, the workers use their hand to loop threads over the design.
Washing of the Fabric: The readied fabrics are then washed to drive out dirt and present the clean apparel to the discerning purchaser. They are then ironed and packed.
Fabric Undergoes Quality Check: The washed, ironed and neatly folded fabrics are then subject to detailed checking by the firm's officials for any defects. The final step involves loose thread cutting, price stamping, packing and loading for delivery.
The Fabrics are Marketed: The final product is shipped to the retail outlets from where customers can purchase the material. The firm presently has outlets in Hazratganj, Bhootnath and Dhanwantari. Customers can also buy products via Whatsapp and website. Modes of accepted payment include cash/local cheques/DDs and online payment.